It is starting to feel like spring here in Stirling as the weather is warmer and little green sprouts are popping up in local flower beds. Certainly leaf green is an appropriate colour of inspiration to look at today.
Tiles come in so many shapes and sizes – subway, mosaic, 3×6″, 3×12″, lantern, penny, scalloped – not to mention the many ways of laying them!
The colour green is a favourite of mine so as I sit, quarantined in my kitchen, I can't help but dream up new kitchen tile ideas…
We'll start with internet inspiration and then take a look at some of our products in the store.
Inspiration:
The picture above shows a glossy leaf green 3×6 subway tile which brightens up the neutral wood cabinets.
Although the green in this picture is a bit darker than a spring green, notice the variety of shades that stand out – and the herringbone pattern!
Imagine tiling just one wall in your kitchen or bathroom with patterned tile! Above is a clean, industrial kitchen with a bright spring green hexagon tile.
Break up your subway tile backsplash with a decorative centrepiece over your oven or sink!
Our Products:
Some of the product we have in our showroom have varying patterns and shades of green. 'Slash' is a contemporary ceramic made in 3×12″, a longer subway tile than pictured above. It can be installed in a herringbone style, as a border, and of course, in the traditional subway fashion. Below is Maiolica, a much more earthy green, perfect for a Renaissance-lover, replicating the look of traditional tin-glazed pottery. Maiolica is available in modular 8×8, 8×24, 4×12 tiles. 8×8 and 4×12.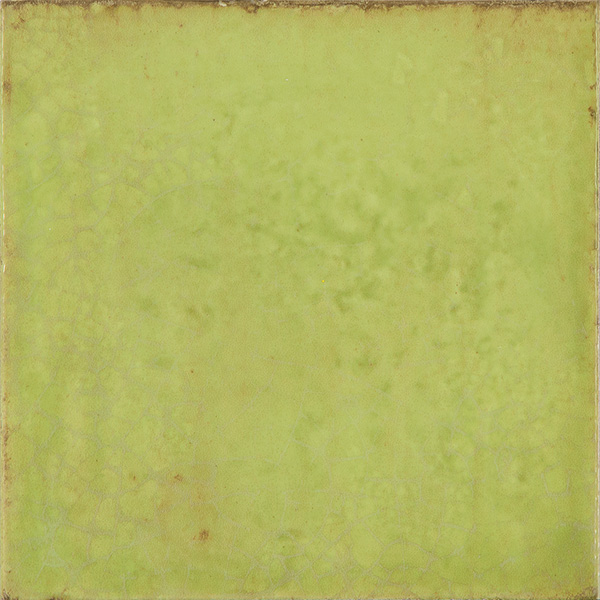 As mentioned before, there are many shapes and styles of backsplash tile. Here are two of the more popular choices before – lantern and scallop. In store we sell both of these shapes, and the lantern (or arabesque) tiles come in two sizes.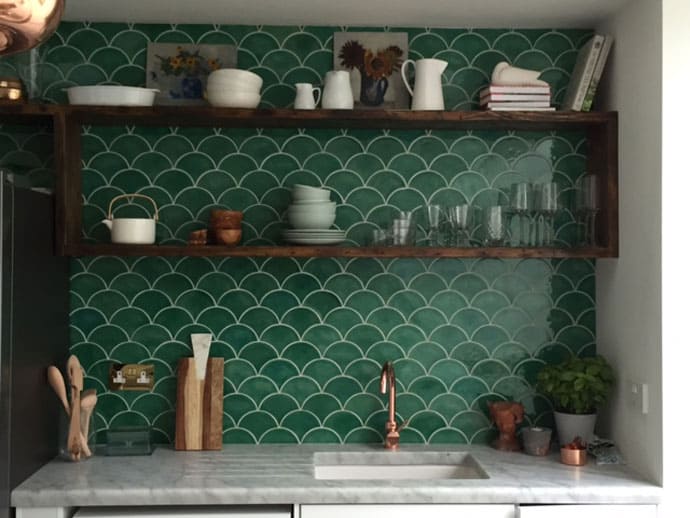 And finally, who can forget the 1×1 glass mosaic. Sold in 12×12″ sheets and in various patterns and shades, these tiny timeless tiles brighten up any kitchen.
Of course, there are many, many more inspirational pictures here on the web. Once our showroom is open again, be sure to stop in and see all that we have. Until then, take a look at all of our products at stirlingflooring.ca.