It's time to take a break from colourful patterned tile and take a look at one of Stirling Carpet & Flooring's finest products: Vinyl Plank Flooring.
Luxury Vinyl Tile, or LVT, is a popular choice due to it's quality, easy installation, and wide variety. Vinyl is one of the most durable types of flooring. It stands up to dents, dings, and scratches from normal, daily abuse, but many have the option of glue down or click (lock). So which do you choose?
Glue down vinyl is when you use adhesive to seal the vinyl to the subfloor. Click vinyl uses a click and lock system, similar to laminate, to keep the floor secure and connected.
Vinyl is one of the few types of floors that can be safely installed over concrete, wood, or other solid floors. Depending on your subfloor, one type of vinyl might work better than others. If your subfloor is prone to high moisture, such as below-grade concrete, you're better off installing with a click flooring because a vapor barrier could be used.
In general, glue down vinyl planks are thinner than click vinyl planks, great for installation. However, you will have less cushion over harder surfaces, such as cement. If you're looking for a softer feel under foot, check out our click vinyl.
The room you plan to install your flooring in matters too. Larger rooms will have less stability with a click installation. For larger rooms or adjoining rooms without transition moldings, a glue-down installation will be your best bet.
Your budget may also determine if you choose a glue down vs click vinyl flooring. Glue down vinyls are typically more affordable than click vinyl. Click vinyl can be found in a variety of thicknesses with special features such as attached cork underlayment, which will increase the cost.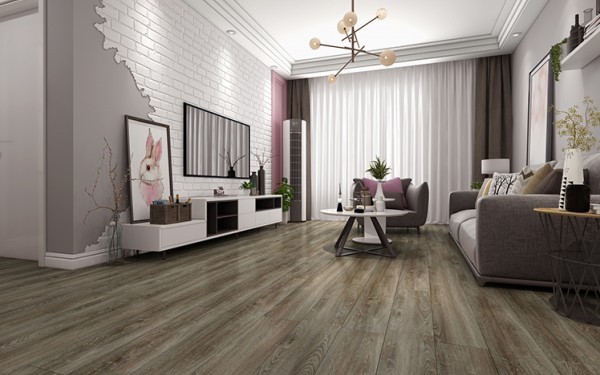 Glue down vinyl can be done by inexperienced homeowners, but it's not ideal if you have never worked with an adhesive before. The preferred (and much easier) solution is to use click vinyl. Click vinyl require little tools and no adhesive. It is a very DIY friendly option.
Of course, it's highly recommended that you hire Brian and his team to install both your click and glue down vinyl. This way, you ensure you get the results you're anticipating with your new floors. You'll save yourself time, hassle, and potentially money on lost product by doing so. Feel free to contact us for an appointment and to look at our products.