I thought spring was here, but the past few days have brought cold winds and of all things…snow. Ugh. So instead of looking at outdoor living again, I am taking you to the basement.
Usually with April/May comes showers and, for some, unfortunate flooding. 2019 brought basement flooding for homes that had never seen water before – even 25 year-old homes! Many had to rip up their flooring and start again. So let's look at options:
Short of moving to the top of a hill, there are many flooring options and preparations for waterproof flooring. So let's take a look at the best flooring for basements where there is a chance for water damage – hoping it never happens to you.
First off, there are some things that can help with prevention:
Have better drainage by adding extensions to your downspouts so water exits at least five feet away from your house.
Caulk the windows and doors and keep gutters in good repair.
Landscape the outside yard to properly allow water drainage. That means grading out foundation soil so it slopes away from foundation walls at least four inches over 10 feet.
Always use flooring that is built for below grade.
Have your flooring installed properly to ensure the proper protection from mold and mildew underneath. A concrete basement slab is porous and prone to moisture and water vapor migrating up through the slab.
Flooring Options:
Vinyl sheet flooring ( and any of our vinyl planks and tiles) goes directly over prepared concrete and will withstand even minor flooding. Resilient vinyl floor provides cushioning underfoot and does a good job of mimicking ceramic tile, real stone and even wood. We have many samples in the store where you can feel the thickness of the cushioning. I personally have had vinyl sheet flooring in my kitchen for over 12 years: it looks like ceramic tile and is soft underfoot. (And my dishwasher has exploded several times…)
Engineered wood flooring gives you the warmth and beauty of real wood with stability and moisture resistance. Click/lock planks are easy to install as a floating floor system. You can see a previous post on click versus glue down here.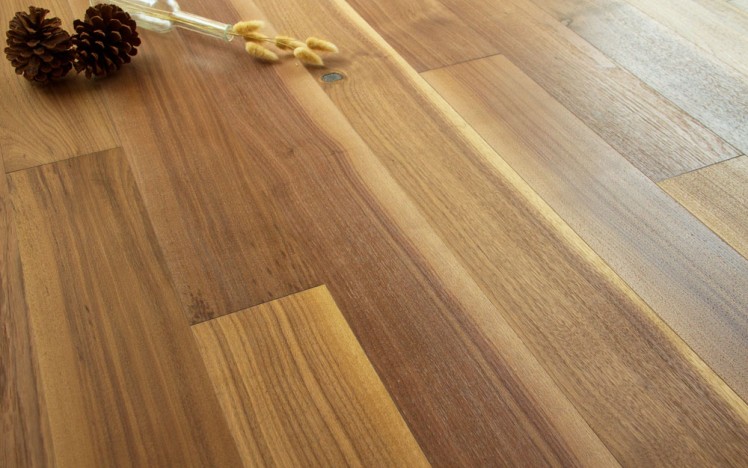 Some types of carpet tiles come with similar plastic barriers already attached to the tile. They snap together and are good for DIY projects. Modular carpet tiles are great as well in that if one gets stained or worn, it can be lifted out and easily replaced – fabulous for a kid's playroom.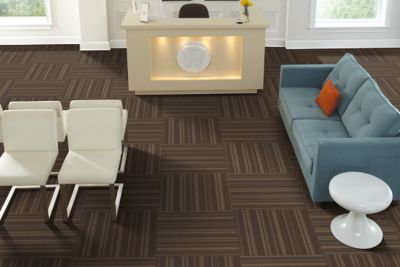 Ceramic tile is a very popular choice, with tons of colors and styles. It is unaffected by moisture and goes directly onto a properly prepped concrete floor. However, if your basement is rather cold, ceramic will be quite cool underfoot unless you install it over a heating system. Feel free to call/email Brian at the store to ask for prices on installation of the Kerdi system for underneath your future tile floor.
Of course, there are exceptions – carpet is loved by those of us in the office at Stirling Carpet & Flooring, but if there was a flood, it would be a definite mess. Other exceptions are solid hardwood flooring and laminate flooring made with a fiberboard core that hasn't been treated for moisture resistance. Both types will warp and buckle if moisture is absorbed.
Be sure to check us out online for other products and ideas. Our team is ready and waiting. Book an appointment to look over the those vinyl sheet samples or even carpeting for the basement stairs. Have fun planning!!